Quality does not have to be expensive.
Many retail jewelers tell their customers that diamond brokers only appear to have better prices, but in reality sell mediocre diamonds to unsuspecting consumers. Crescent Jewelers encourages you to come to one of our locations and let our experts explain to you the things you need to know when shopping for fine jewelry. Then go visit those retailers. We guarantee that you will come back to Crescent to make your purchase based on the quality, selection, service and price we can offer you.
We are buyers and sellers of diamonds, gold, estate jewelry and antiques. We carry Brevani Jewelry, Pandora Jewelery, and host of others as well. We are an Authorized Pandora Dealer.
Quality and Price Guarantee
We stand behind the quality and authenticity of every piece we sell. From the dazzling diamonds to glimmering gemstones, our jewelry features genuine, authentic gems and metals. Our independent diamond certification organizations include GIA, AGS, HRD, IGI, EGL and others.
Our goal is to ensure that your purchase is a pleasurable experience. Buying your jewelry should be easy, enjoyable and stress free. Our products come to you with all the guarantees that customers have come to expect from Crescent Jewelers, including our no hassle 100% full refund guarantee if not satisfied for any reason within 30 days of delivery.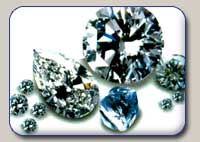 So many diamonds, so little time!
Use our Diamond Guides page to help design the piece of jewelry you've always dreamt of. Then, come in and let our experts help you make your dream a reality.

Two Locations to Serve You Better
18049 Torrence Ave.
Lansing, IL 60438
(708) 418-5075
20501 S. LaGrange Rd.
Frankfort, IL 60423
(815) 806-8633

See Maps of our Locations